Back to the cabins
La Cabane d'Hélène
At the water's edge

2 pers.

24 m2

5 min. walk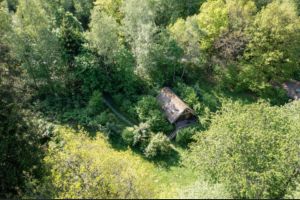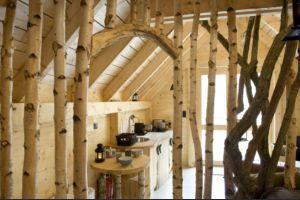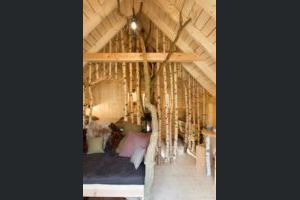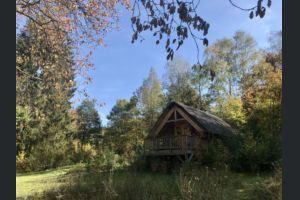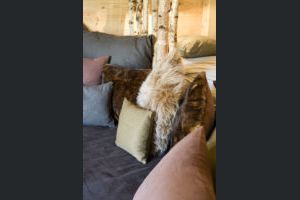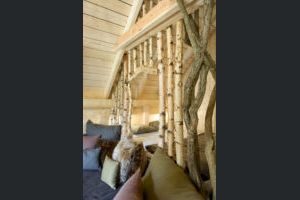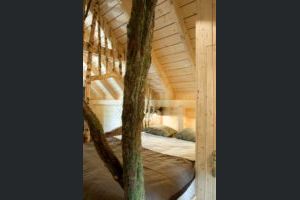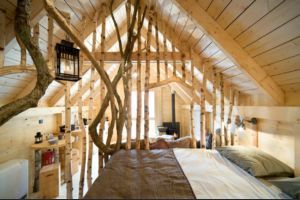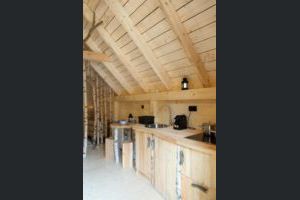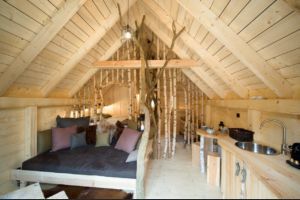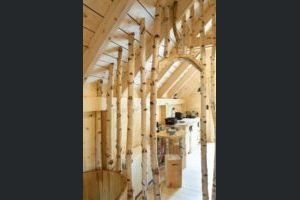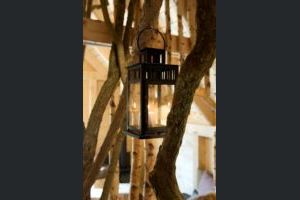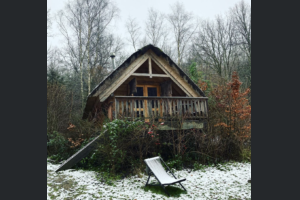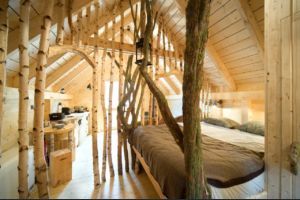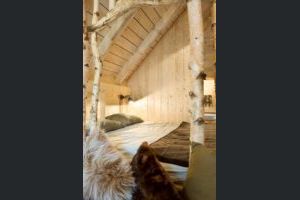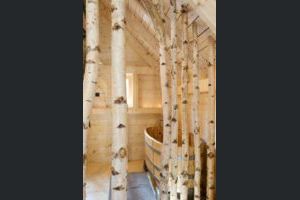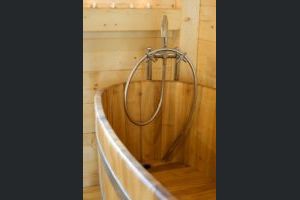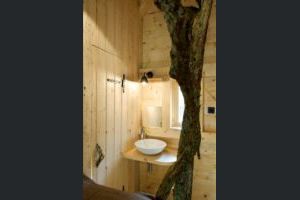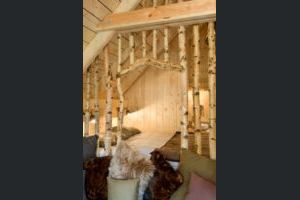 La Cabane d'Hélène
La Cabane d'Hélène has its feet in the water and is all thatched.
A huge sofa filled with cushions faces the wood stove and offers a view of the river. The bed overhangs the sofa and together they form a large space that invites you to relax and rest. The living space is structured between the black and gnarled hawthorn trunks and the large straight white birch shutter. The small kitchen area is on the right as you enter and a pretty wooden bathtub is hidden in the back of the cabin behind the shutter.
La Cabane d'Hélène will allow you to be lulled by the murmurs of the Ourthe which flows just below. It is the twin sister of the Cabane de Gaspard.
---
Housing characteristics
Animals

Admitted

Bed

160cm

Bath

Wooden bathtub

Kitchen

Equipped

Terrace

Baby bed

on demand

Non-smoker

No WiFi

View on

the river
---
Indoor equipment
Wood stove
Bag of logs
Bag of firewood
Allume feu
Matches
Electric heating
Fridge
Electrical boxes
Microwave oven
Bread toaster
Pitcher
Strainer
Nespresso machine
Large plates
Small plates
Water glasses
Wine glasses
Champagne flutes
Cutlery
Egg cups
Cutting board
Kitchen utensils
Salt shaker
Pepper tree
Essuies de vaisselle
Mother-in-law
Toilet brush
Limonadier (Corkscrew)
Cotton wipes
Salad bowl
Dish soap
Casseroles
Stoves
Dishes
Teapot
Coffee cups
Candles
Bed sheets
Bath towels
Soap
Shampooing
Toilet paper
Garbage cans
---
Outdoor equipment
Barbecue
Terrace
Transat
Outdoor table
Benches
Ashtray
---
Availability and reservations
Day of arrival Monday, Wednesday or Friday

Minimum duration minimum 1 nights

Booking select a period below
---
Customer reviews
General
The environment is amazing and the cabin itself is just wonderful. The stay completely fulfilled my expectations. If you love nature and the coziness of these types of cabins, I would definitely recommend coming here. I will certainly visit again!
Opinions on accommodation
Everything in the cabin matched the pictures and the space was really lovely and cozy. Just enough space for 2 people and even a kitchen with fridge and microwave were there.
In general the cabin was clean and it contained everything you need (towels, bath soaps etc.). But a few more "hidden" places weren't cleaned well, for example beneath the bed it was very dusty and even some chips from previous guests were laying there (which isn't hard to notice since the bed is mounted higher). Also the shutters outside the window didn't give a feeling of privacy, because you can still see through, some curtains on the inside would be nice.
General
Everything
Opinions on accommodation
Atmosphere, decoration, space
General
Very kind, lovely location, with autumn-leaves-covered walking trails starting at the grounds. Woody hills in front, woody hills behind, and in between the river. What more could you want? Breakfast and catering available for order.
Opinions on accommodation
Lovely, small, but with all necessary amenities. Comfortable bed, amazing big bath-tub, and lovely large sofa.
More wood and fire-starters would have been nice for the length of the stay (especially since, due to the rain, all wood I was able to collect was wet)
General
The cabins are in the heart of nature and decently close to the towns of Houfalize and Bastogne to explore.
Overalll the service and accommodations were great.
Opinions on accommodation
The cabin itself was very cozy as perfect for a few day stay. We stayed two nights but wish we had been able to stay two more. Overall the cabin is well equipped with a comfortable bed, a nice size, and right in the heart of nature. The bonfire and wood stove is a nice touch!
Would have been nice to have a screen at the door for mosquitos. At night it was very warm with the heater on, so to cool down the cabin you needed to keep the door open but there were many mosquitos near this cabin due to the river.
You might also like these cabins
See all